Historians about Mayor Rieger
Historians say: "Guenter A. Rieger is the first Canadian holding office of Mayor after being only for one year a Canadian Citizen; Congratulations.
.
Rieger defeated incumbent, Harold Norris, 14 years on Spallumcheen council and three years as mayor of the township, at the polls on Saturday.
Mayor Rieger said. " I feel very confident, and would like to thank Spallumcheen voters for their trust . I will stick to my promise providing an honest and open government..".
Taxes in Spallumcheen
During his, Rieger's, terms as mayor 1989-1996, fiscal management made it possible, that residential tax rates did not increased for six consecutive years, by providing the same municipal services.
Spallumcheen Centennial 1992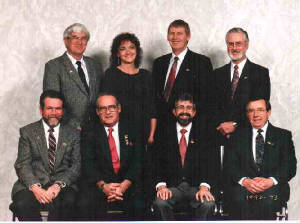 .
Centennial Council for the Township of Spallumcheen in 1992.
Standing in the back, Ald. Harrold Norris Ald. Noni Anderso, Ald. Dave Jordan, Ald. John Low
Front: Ald. Les
Young, Ald. Rob Hay, Mayor Guenter A. Rieger, Municipla Clerk
______________________________________________________
Spallumcheen Centennial Celebration 1992:
Special guests: Mayor Eric Hornby and his wife, City of Armstrong , BC Minister of Agriculture Bill Barley, Member of Parliament Lyle McWilliam with his wife, Member of the Legilature Layll Hanson with hif wife Nancy, directors and chairman of the North Okanagan Regional District and Mayor Guenter A. Rieger and his wife Regina.
.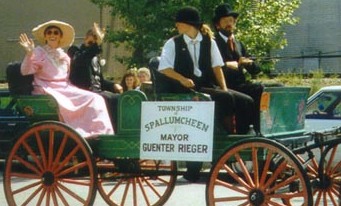 __________________________________________
Municipal Election 1993
Rieger get re-elected for second a term 1993-1996
Mayor Guenter A. Rieger, re-elected for a second term as Mayor for the Township of Spallumcheen.
The community has spoken.
Mayor Guenter A. Rieger was the only incumbent mayor in British Columbia re-elected, with a brand new Council.
Mayor Rieger with his brand new Council stearing ahead.... Congratulations, and all the best for Spallumcheen Council 1993-1996.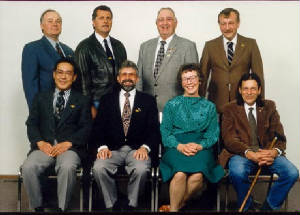 .
Editorials Municipal Election election, November of 1993
"Rieger seeks second term in Spallumcheen. Citing solid community support, Spallumcheen Mayor Guenter Rieger has anounced he will seek re-election.
Rieger is so far opposed by only one other candidate, Coun. John Low, a frequent sparring partner with Mayor Rieger around the council table....
Low said. ." We have to oust him out of his office."
Victory tastes sweet to Rieger:
Re-elected Spallumcheen Mayor Guenter A. Rieger was savoring a victory over his rivals Sunday and predicting a new era of stability in Spallumcheen's votatile politics. Rieger, whose three years on council have been punctuated by pitched battles with fellow council members and the media, had the last laugh Saturday amid election results that left his opposition tatters.
"The taxpayers have spoken clearly, and I am very pleased," a beaming Rieger said.
Mayor Rieger's real victory came in the Spallumcheen council race, which saw all three incumbent councillors - Bob Hay- Dave Jordan including Harold Norris, who was defeated in the 1989 municipal election as an incumbent mayor by Rieger, and was coming back as a councillor in a by-election in 1992, defeated in favor of his own supporters.
A new direction for Spallumcheen.
Citizens Initiatives
Referendum and Recall:
The new council wasted little time in getting things done.Council passed several motions, including a motion to support the principle of Recall and Referendum, a process Mayor Rieger lobbied unsuccessfully for in his previous term.Citizens Initiatives Referendum and Recall.
In 1993, the new elected council wasted little time in getting things done. Council passed one of the most important motion in Spallumcheen's history.
A process Mayor Rieger lobbied unsuccessfully for in his previous term.
Mayor Rieger said: " A Very significant step for community involvement is the step to offer Spallumcheen taxpayers Citizens Initiative Referendum and Recall" , Mayor Guenter A. Rieger said in his inauguarl address. "This council will go into Canadian history, since Spallumcheen will be one of the first community in Canada to make such an important move."
The Provincial Government of British Columbia, may not ready yet for such legislation.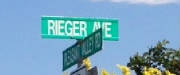 During his second term as mayor, Councillor Bev Torrens moved a motion, and passed by Spallumcheen Council with no opposition, to award Mayor Rieger, for his dedication to Spallumcheen and open and honest government, by naming a municipal road after him, known today as Rieger Avenue......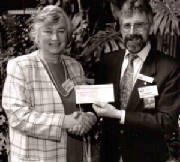 Minister of Municipal Affairs Darlene Mazari presented Mayor Guenter Rieger a check of $50,000 for the Township of Spallumcheen. The Grant can be used to identify solutions and possible restructuring for 17 independent water districts supplying residents and farmers with water. The Minister and staff provided of lot of support to the Township, by helping and identifying the role of water districts.
Rieger retired from municipal politics in 1996
In 1996, Rieger retired from Spallumcheen municipal politics.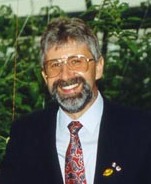 After Mayor Rieger retired from municipal politics, he was asked to let his name stand for provincial / federal politics, but Rieger declined.

He said: "Let other people do it. We have many people in our area who would like to have such a job. I could not handle all the party politics etc. , since you're not able or allowed to represent truly your constituents..... I leave it up to others......

Changing my principles just to be popular, that's not for me. I have learned a lot during the last 6 years. I had the privelege working with decicated people, with two different councils. I think both councils made excellent and wise decisions, beneficial for Spallumcheen for years to come.

Knowing first hand what the media can do to you, I'm not interested in any other political position. Honest and fair journalism is very hard to find this days. The media can make you or can break you. I like Spallumcheen and my country which has so much to offer. I did my part. I may will write a book some day."

Let's see what's happen for Rieger during the next few years. A guy like Rieger can't be silent, and people can be assured that we will hear more of him. His forward thinking and voice on Spallumcheen council and Regional district will be missed. During his terms a lot of ink was used and his name made many times headlines......

Rieger fulfilled his promise providing an open and honest government not found many times anymore. He, Rieger was an inspiration for many, but also a nightmare for those who did not liked his open approach. He had no hidden agenda and was working very hard by preventing or solving problems. Honesty and Integrity is always close to his heart, and demonstrated during his terms as mayor.

Rieger Avenue, which was named after Rieger, will engrave his name in Spallumcheen's history.We wish Mr. Rieger and his family all the best.


____________________________________________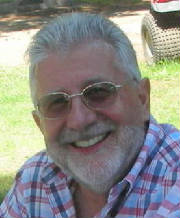 I still appreciate that I have received the confidence of Spallumcheen voters, given me the honour serving the Township of Spallumcheen as mayor from 1989 to 1996. One of many highlights was our Centennial celebration in 1992, yes it's some time ago.... It was very nice to see so many residents of both communities from Spallumcheen and the city of Armstrong, participating in different events.I have learned a lot during my terms in public office, and found many wonderful new friends with lasting memories. Getting titles, does not make me a different person. It's not titles that honor men, but men that honor titles.

However, please let me close with the follow quote from Dwight D. Eisenhower.The supreme quality for leadership is unquestionably integrity.Without it, no real success is possible, no matter whether it is on a section gang, a football field, in an army, or in an office."
(Disclaimer: Links are public websites and not associated with the Spallumcheen Chronicle)
______________________________________________
Spallumcheen is a district municipality in the Canadian province of British Columbia. Located in the Okanagan region between Vernon and Enderby, the township had a population of 4,719 (1991) and land area of 255.77 square kilometres (98.75 sq mi) in the Canada 2011 Census.
The district, whose official name is the Township of Spallumcheen and which is the oldest rural municipality in the British Columbia Interior (incorporated in 1892), consists primarily of agricultural land surrounding the separately incorporated City of Armstrong. Both Spallumcheen and Armstrong are member municipalities of the Regional District of North Okanagan.
The Schubert House. The Schubert House which was built in 1892. In 1862 August and Catherine Schubert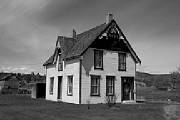 at the ranch from Fort Kamloops.Upon their arrival, Catherine gave birth to Rose, the first white child born in the interior of BC. This house was about five miles north of this location.In 1985 the O'Keefe Ranch accepted the house from Trevor Schubert. The house was moved to this location in 1989 and officially opened to thepublic in 1990.

In the early 1970's residents of Armstrong found themselves powerless to save an historic building from being demolished. This event was the spark that led to the creation of the Armstrong Spallumcheen Historical Society, incorporated in 1974. In the beginning, the Society's collection consisted mainly of historical photographs. Almost a decade later the City of Armstrong offered the Society space in part of a machine storage building. The Society opened a museum to the public in 1983. In 1988, with the help of a gift from Rusty Freeze, they expanded into the rest of the building and added an Art Gallery. At this time the name of the Society changed to the Armstrong Spallumcheen Museum and Arts Society. The museum and art gallery are the result of the dedication of the many volunteers from the community who continue to be active in it's operation.